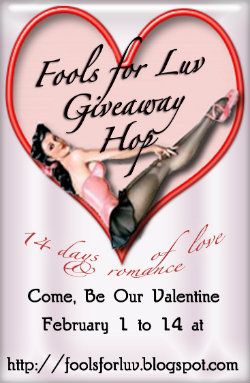 Today, we are happy to be part of the Fools For Luv Giveaway Hop which celebrates all things Valentines day. It is hosted by Steph at Fangs, Wands and Fairy Dust And Dana at Readaholics Anonymous. The hop will be live from the 1st – 14th Feb so be sure to go through the list below for a chance to win lots of good books!
We are going to be giving away a Pre-Ordered paperback copy of the next release from Julie James, Love Irresistible
HE'S USED TO GETTING WHAT HE WANTS…

A former football star and one of Chicago's top prosecutors, Assistant U.S. Attorney Cade Morgan will do anything to nail a corrupt state senator, which means he needs Brooke Parker's help. As general counsel for a restaurant company, she can get a bug to the senator's table at one of her five-star restaurants so the FBI can eavesdrop on him. All Cade has to do is convince Brooke to cooperate—and he's not afraid to use a little charm, or the power of his office, to do just that.

AND WHAT HE WANTS IS HER.

A savvy businesswoman, Brooke knows she needs to play ball with the U.S. Attorney's office—even if it means working with Cade. No doubt there's a sizzling attraction beneath all their sarcastic quips, but Brooke is determined to keep things casual. Cade agrees—until a surprising turn of events throws his life into turmoil, and he realizes that he wants more than just a good time from the one woman with whom he could fall terrifyingly, irresistibly in love . . .
This book will be ordered from Book Depository as soon as a winner is picked, so will be shipped once available. It is available to all the areas which this site ships to! On a side note, if you would like to be gifted a copy of one of the earlier titles in the series instead, that can be arranged too!


The other people involved in the hop are listed below…Get Hopping!!