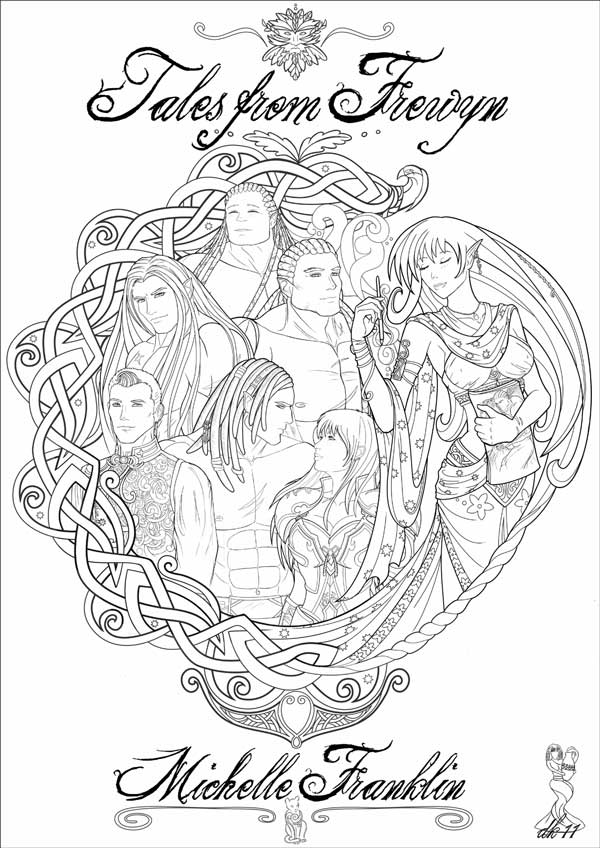 A few minutes skulking from the pleasure district to the end of the residential quarter and Teague was at Qwynlin's apartment. He would have used the front door and entered through the hall, but as Mureadh had already claimed that office, he would surprise her by entering through the window. He went to the side of the house and began climbing the ivy lattice, hoping in part that she had not locked the window to her bedchamber from the inside. It was not locked, however; it was even partially opened, probably to let out some of the heat from the fire and oven. He sat on the sill, peered within to see movement in the kitchen across the main room, smiled to himself in senseless glee to think of the surprise he was about to give, and slipped into the apartment with silent steps.
                He crept into the bedchamber, slid past the guest room, and when he reached the kitchen entrance found a most lovely and agreeable surprise: there beside the table was his gracious lady, standing with her back to him and wearing nothing but a small collar about her neck. Teague inhaled, overpowered by the prospect of his exquisite woman well-prepared for his arrival. Her pastel complexion, the lithe outline of her form, the fluidity of her movement invited him forward. He would not wait for her turn around; he would appear behind her as though a criminal coming to indulge in her pleasures. The first alacritous beating of her heart and fearful cry would be all his and then her delight.
           
     Once he was behind her, he allowed a moment's pause for the impression of his shadow to prevail her. She turned her head, her eye noticed a something looming over her, and the moment she gasped in horror, Teague seized her throat with one hand, her waist with the other, and held her against him without allowing her to see his face. He reveled in her terror, her whimpering cries, the pounding of her heart, her sinuous flesh, the blush of her cheek trailing down her neck and to the tip of her ear. The hand around her waist slipped down between her shaking thighs and his mouth grazed her nape as he inhaled her mellifluous scent.
                "You robbed me of the pleasure of removing your blue dress," he whispered in her ear.
                In an instant, all Qwynlin's greatest fears were done away. The familiar touch and black calfskin gloves had almost revealed him, but the voice, the soothing purr, the gentleness of his pointed nose browsing the lines of her neck betrayed his identity. She tranquilized, felt her lips forming into a smile, and allowed him to kiss the space behind her ear and touch the innermost portion of her thighs. Her cries of horror became moans of pleasance, and the thrill of being taken by her lover in such a manner rushed on her. His games were forever astonishing, and Teague never ceased to fulfill her fancies or undermine her expectations.
                Feeling her resign to his movements and catching the curls in the corners of her mouth, Teague grinned and gave her a quick jolt. "I think I'll enjoy tormenting you as punishment," he said in smooth tones, breathing down the front of her neck.
                "I was sure that my brother would have ruined the surprise," she said, leaning back and inviting him to place his mouth on her chest. "I thought that being ready would better please you."  
 
                It had better pleased him, but he was too occupied with lavishing her small and supple breasts with his attention. He gripped her, pulled on her flesh, and relished her groans as he grazed her nipple with his teeth. He removed his one of his gloves and felt the warmth and succulence in the crevice between her legs increase. "It does please me," he said, gliding his fingers along the crease of her backside, "to see you so eager to receive your punishment." He turned with her in his arms drew her awareness toward the table where the lamb roast sat still steaming in the clay pot with the sliced and roasted tomatoes lining the bottom. The roast had been sliced and half the tomatoes had absconded, and though Teague could not be saddened by the lost of his meal, he could use it to further his own designs.
                Qwynlin made an arch smirk. "I'm sorry, Teague. I had to give Mureadh some of our supper or else he would have suspected me of waiting for someone, and you know how he asks questions." And then, in a sorrowful tone and with pleading, wide eyes, she added, "Do you forgive me?" Her eyes glistened with feigned innocence and she bit her lip.
                "No," Teague said firmly, pulling into the main room by the ends of her hair. "I'll teach you to give away what belongs to your master."
                Qwynlin nearly leapt in happiness. All her aspiration was that he should grant her a playful punishment for being remiss. His fervency, his repetition of his designation, his forcing her onto her hands and knees was a pleasurable degradation, one that made her feel empowerment inexpressible. She knew, as she watched him remove his cloak and place his newly obtained implements on the table, that she was the one in control of their sessions. Nothing was done without her approval, and the moment that the word from her was given, all guises were laid aside and each became tender and consoling. The sight of the whip and rope only heightened her claims to happiness, and when Teague assuming the office of master took the handle of the whip into his hand and cracked it against the air, she cooed in exultation to think of its various tails being thrashed against her.  She arched her back and spread her sacrum, entreating him to begin administering her pleasantly agonizing penance.
                The anticipation of the first thrash had done well to prepare her for the pain of it. Once the leather tails struck her flesh, it was difficult not to buckle under the initial sting. She held herself up well, her limbs quivering as the pang resonated through her body. She hissed as the sting and warming sensation overwhelmed her.
                "Are you able to withstand another?" Teague said from behind her, in a considerate tone.
                "I think so," Qwynlin exhaled, her voice trembling.
                "How does it feel?"
                She paused. "Odd. And very pleasant. I think I'm more afraid of beaten than I am of the pain or damage. The contact frightens me, but I enjoy the numbing sting afterward. Are you hitting me hard?"
                "No. If I were, I would draw blood, and I would never beat you to that extent, even if you should ask me."
                Qwynlin smiled and turned her head. "I'm ready," her voice chimed as she observed her master's fervent expression.
                "Tell me when to stop."
                And before she was able to reply, she was assailed by blows from the whip. They were light, but rapid and successive, still granting pain and still bringing with it the temperate and numbing sensation after each strike. The sound of the whip, too, enticed her. The crack of leather against her skin accorded an added satisfaction. She endured the wondrous torment for as long as she could, and when the tears formed in her eyes and her respiration could no longer be regained, she cried a breathless "Stop," and the pleasurable penance was over.