Ever since I bought my Kindle. it's been easier for me to choose my perfect holiday read. It used to be that I used to have pick just 2 or 3 paperbacks but now I can pick a butt-load. Holiday reads for me are specific. They have to fit a particular set of criteria and so I thought I'd share them and some of my favourites. I know I'm an odd-bod for having holiday read criteria but we all know I read books to fit my mood …
They have to be light
I'm not a fan of huge angst in my holiday reads. I want light, fresh and fun.
LOVE CAN HAPPEN IN A HEARTBEAT.

Grace never thought she'd be starting her life over from scratch. Losing everything has landed her in Lucky Harbor, working as a dog walker for overwhelmed ER doctor Josh Scott. But the day his nanny fails to show up, Grace goes from caring for Josh's loveable mutt to caring for his rambunctious kids. Soon Grace is playing house with the sexy single dad…

With so many people depending on him, Josh has no time for anything outside of his clinic and family–until Grace arrives in town. Now this brainy blonde is turning his life inside out and giving a whole new meaning to the phrase "good bedside manner." Josh and Grace don't know if what they have can last. But in a town like Lucky Harbor, a lifetime of love starts with just one day…
They have to be swoon-worthy romantic …. 
I want swoon-worthy heroes with heart-melting, panty dropping lines….
If Jessamyn Carroll had only herself to consider, staying in Pennsylvania after her husband's death would have been a no-brainer. Her vindictive in-laws' efforts to get their hooks into her infant son, however, force her to flee to a new home. Konigsburg, Texas.

Peace…at least for now. She's even found a way to make some extra money, looking after sexy accountant Lars Toleffson's precocious two-year-old daughter. She finds it easy—too easy—to let his protective presence lull her into thinking she and her son are safe at last.

Lars, still wounded from enduring a nasty divorce from his cheating ex-wife, tries to fight his attraction to the mysterious, beautiful widow. But when an intruder breaks into her place, and Jess comes clean about her past, all bets are off. Someone wants her baby—and wants Jess out of the picture. Permanently.

Now Jess has a live-in bodyguard, whether she wants him or not. Except she does want him—and he wants her. Yet negotiating a future together will have to overcome a lot of roadblocks: babies, puppies, the entire, meddling Toleffson family—and a kidnapper.

Warning: Contains Konigsburg craziness, creepy in-laws, a conniving two-year-old, a lovelorn accountant, a sleep-deprived Web developer, and lots of hot holiday sex.
There has to be some laughs
Whether it's a quirky heroine, a spunky side character or a slapstick plot, I need a book to make me smile.
He's big, burly, and way smarter than your average shapeshifting bear. He's also about to get trapped by own his game. . .

Lou Crushek is a reasonable, mellow, easygoing kind of guy. But once someone starts killing the scumbags he works so hard to bust, that really gets under his fur. Especially when that someone is a curvy she-tiger with a skill set that's turning Crush's lone-bear world upside down–and bringing his passion out of hibernation. . .

As a member of an elite feline protection unit, Marcella Malone has no problem body-dropping anyone who hunts her kind. But Crush is proving one major pain in her gorgeous tail. The only reason she's joined forces with him is to track down the wealthy human who's got her entire species in his ruthless sights. It sure isn't because Crush's stubborn and contrary attitude is rubbing Cella in all the right ways. .
I don't want emotionally charged angst..
I'm not looking for extremely emotionally tortured heroes or heroines….. I don't want to be in tears at the pool-side!! I'm on holiday and I want my reads to reflect that…
In the latest eBook original novel in Ruthie Knox's scorching-hot Camelot series, a no-strings fling looks an awful lot like falling in love—or flirting with disaster.

Fresh out of a fiasco of a marriage, Katie Clark has retreated to her hometown to start over. The new Katie is sophisticated, cavalier, and hell-bent on kicking butt at her job in her brother's security firm. But on her first assignment—digging up the truth about the stalker threatening a world-famous singer-songwriter—Katie must endure the silent treatment from a stern but sexy partner who doesn't want her help . . . or her company.

Sean Owens knows that if he opens his mouth around Katie, she'll instantly remember him as the geeky kid who sat behind her in high school. Silence is golden, but he can't keep quiet forever, not with Katie stampeding through their investigation. It's time for Sean to step up and take control of the case, and his decade-old crush. If he can break through Katie's newfound independence, they just might find they make a perfect team—on the road, on the job, and in bed.
It needs to be a romance, not an erotic one. 
I know, controversial. Thing is, I also don't want to be getting steamed up whilst by the pool or cruising at 30,000 ft! Now I'm not saying I want no sex, romances still do have sex…. they just have more romance than sex!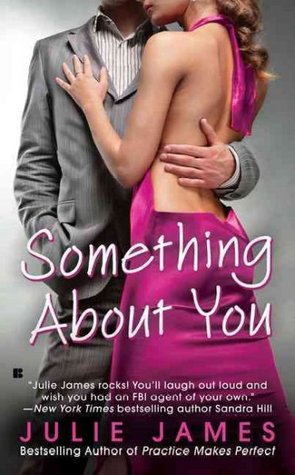 Fate has thrown two sworn enemies…

Of all the hotel rooms rented by all the adulterous politicians in Chicago, female Assistant U.S. Attorney Cameron Lynde had to choose the one next to 1308, where some hot-and-heavy lovemaking ends with a death. And of all the FBI agents in Illinois, it had to be Special Agent Jack Pallas who gets assigned to this high-profile homicide. The same Jack Pallas who still blames Cameron for a botched crackdown three years ago—and for nearly ruining his career.

Into each other's arms…

Work with Cameron Lynde? Are they kidding? Maybe, Jack thinks, this is some kind of welcome-back prank after his stint away from Chicago. But it's no joke; the pair is going to have to put their rocky past behind them and focus on the case at hand. That is, if they can cut back on the razor-sharp jibes—and smother the flame of their sizzling-hot sexual tension.