Someday It Will Be – S.A. McAuley
Author Links : Website | Twitter
Buy Links : Amazon £0.99/$1.33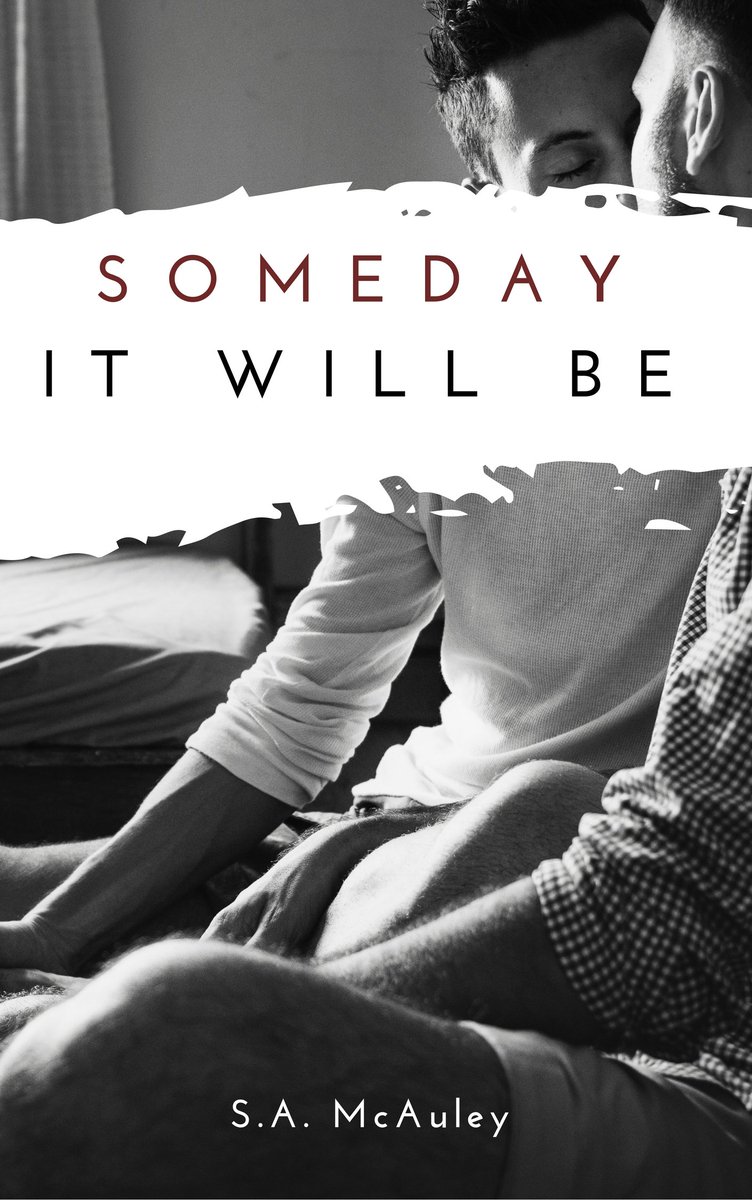 Isaac lingered, taking his time with Poe—touching, licking, tasting. Teasing. Poe curled his fingers into Isaac's hair and gently pulled, silently begging for Isaac's lips to envelop him completely. Isaac laughed, low and throaty, and licked at the base of Poe's cock, then swirled his tongue up and around the head. Poe arched into the touch without thought, pushing himself deeper into Isaac's mouth.
This feeling wasn't new—getting lost in the hot, wet heat of another man's mouth—but somehow it was more. So much more since it was Isaac pulling those needy moans from his throat, Isaac wrapping his hand around the base of his cock and spurring him forward, careening him toward that edge with abandon. Isaac stilled Poe with a hand to Poe's hip, fingers digging into Poe's skin, teeth catching on the head of his cock, alighting every nerve in Poe's body until all he could think about was Isaac.
Poe was already oversensitive, his hole stretched from Isaac driving inside him only moments ago. But he didn't want Isaac to stop or ease up on him. He needed to be taken by Isaac over and over again until every memory of every other man was wiped away into a long-forgotten haze, more dream than reality. He stifled a cry as Isaac took him deep and swallowed around his shaft, Isaac's throat vibrating with moans of pleasure.
Isaac slipped a lubed finger into Poe's ass and pumped it slowly in time with the movement of his lips and tongue. Poe surrendered to the moment, to the languid swipes of Isaac's tongue on his cock. Isaac was torturing him. Knowing that the slowness with which he fucked Poe's ass and tentatively bobbed his head along Poe's length would drive him mad.
Isaac sucked Poe in deep, hard, and found that spot inside him that blackened his vision and stole his breath, catapulting him to the edge, then Isaac withdrew completely, leaving Poe a writhing mess on the rumpled sheets.
"Fuck, Isaac. I need more. Please. More," Poe begged, his grasp on Isaac's head pulling his lover back to his aching cock.
More. He needed so much more. More heat, more friction. More of Isaac's touch. More reassurance. It was only in these moments—so intimate, so overwhelming—that Poe could believe Isaac's return to him was real.
Isaac swallowed him down to the hilt and Poe arched off the bed, unable to hold back the oaths of worship that fell from his lips. Isaac was everywhere around and in him all at once—his scent, his skin, his breath—and Poe was wholly alive. Free and yet owned completely. Loved.
He was consumed by Isaac's touch. A willing slave to Isaac's command. Isaac sped his pace, added another finger, sinking them deep into Poe's ass until Poe could no longer restrain the bucking of his hips. He was so close, a scorching fire racing through his veins, a burn that only Isaac could stoke to uncontrollable heights. He was breaking apart, deconstructed with Isaac's hands, with his mouth. With Isaac's reverence of his body. There was no way to fight the assault and he didn't want to. He craved this loss of control and trusted Isaac to shatter him then bring him back from the brink. He knew Isaac would have the power to pick up those pieces and resurrect him into something stronger.
Poe chased the contrasting sensations of Isaac's fingers and tongue, Isaac's hand on his hip branding him with pain and possession. He was Isaac's. His. How could he have ever doubted that?
Poe cried out Isaac's name and let himself go, spilling into Isaac's mouth, his hands gripped firmly in Isaac's hair, his body wracked with the intensity of the release. Isaac didn't pull away until Poe was still again, his body sated and mind wiped clean of everything except the man entwining his fingers with Poe's as Isaac slumped onto the bed next to him.
Author Links : Website | Twitter
Buy Links : Amazon   $1.31
Squaring her shoulders, Page seems to collect herself and her confidence when she walks towards me. She surprises the shit out of me when she actually jumps on me, wrapping her legs around my waist and her arms around my neck. My reflexes are quick, so I grab her ass to hold her up at the same time our lips meet, hot and hungry.
Easily carrying her tall, lean weight, I make it inside her apartment and shut the door with my foot before clothes start flying. The fireman's hat and jacket are first, then Page's shirt and bra. The rest are all below the belt and will require us separating.
"Bed?" I ask against her lips.
"Anywhere," she responds, sounding like she's ready to throw down right where we're standing.
"But I didn't even get to use the line I had ready for when you opened the door," I tell her when I lay her down on a bed I assume is in her room.
"Doesn't matter," she says, her hands trying to figure out how to get my fireman pants off.
"So you don't want to hear about how I've got a long ladder to use to save your pussy," I ask.
"No." She laughs. "That's horrible."
"You're so hot I need to cool you down with my hose?"
"Stop talking and get naked fireman," she responds. "I'm in desperate need of your…hose, even if it has been in thousands of fire crotches."
"Hey!" I scoff, but then her hand finds its way into my pants, fisting my hard shaft. I have those heavy pants off a second later, retrieving the condom in the pocket before tossing them along with her shorts and panties out of our way.
I flip Page over like a pancake to take her from behind. After tearing the condom wrapper with my teeth I start multitasking, rolling the condom down with one hand while the other estimates her readiness. Hot damn, she's dripping wet, and she immediately starts squeezing the fuck out of my fingers. I barely touched her, and she came for me.
"Damn, princess. You miss me getting you off the last few weeks?" I ask, pulling her hips back and lining my cock up to slide inside her.
"Yes," she moans.
"Then why didn't you just ask for it?" I'm sheathed all the way inside her wet heat after one deep shove.
"Oh God, Jax!"
"Is this what you needed?" I ask, my hips pumping like they can't go fast or hard enough.
"Yes!"
"Then we're lifting…the goddamn… no fucking…sanction," I tell her, leaning down to bite her shoulder.
"Please," she almost sobs that one word.
"Please, what?" I ask through clenched teeth. Sweat is already running down my face while I try to last. "You want me to fuck you…until your body shakes underneath mine?"
"Yes, God yes!"
"You going to let me fuck you all night?" I ask, my hands tightening on her hips to pound into her harder with each word. "Every. God. Damn. Night?"
"Please, Jax!"
I press my chest flush against her back to reach around underneath her. My fingertips circle her trigger point and with one last deep shove her sexy body tenses and shakes, her moans music to my ears.
"Ahhh," I groan with the explosion of my own release. After she milks every last drop from me, I pull out and flop over onto the mattress beside her. Page continues to lay limply on her stomach, face buried in the pillow. "You still alive, princess?" I ask with a poke to her ribs.
"Mmm," comes out softly when she squirms. Finally, she turns her head to the side to face me, hair in her eyes, a fuck-drunk smile stretched across her face.
Please remember that all entries into the prize draw will be collated at the end of the event and winners picked from voting throughout the event. Winners get to pick prizes on a "first-out-the-bag-first-pick" system….
Prizes Include …
A 40 Gift Card for a retailer of choice
A $20 Gift Card for Amazon
Other, smaller Gift Cards
Pre-order books
eBooks
Books
A crocheted peen